WHO WE ARE
Tenjouland Forest Products Inc.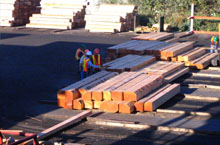 At TENJOULAND our goals are simple: quality and efficiency. We make every effort to provide customers, whether domestic or export, with the highest quality products when they need them. A key element of the TENJOULAND philosophy is treating customers as business partners. It requires a high level of trust on both sides. But, that's what makes enduring relationships.
Lumber sales are handled through the Corporate Office in Vancouver, B.C. for both domestic and international needs. In addition, TENJOULAND regional sales offices and distribution centers in both Guangdong and Shandong provinces in China provide specialists who are familiar with complete raw material solutions. TENJOULAND provides a complete wood management service that identifies your wood product needs, sources the product, secures the supply, inventories it, and delivers on time.
The diversity of our lumber producing and remanufacturing facilities gives our customers access to significant volumes of both softwood and hardwood species such as: Spruce-Pine-Fir, Douglas Fir, Hemlock, Oak, Maple, Cherry, Alder, Poplar, and Walnut in different configurations. Lumber is available green, air-dried and kiln dried. TENJOULAND wholesale department strives to meet the needs of customers who require products we do not normally produce or inventory in our distribution centers. This department has developed a dependable supplier network that meets our strict standards of manufacturing and quality control to assist in meeting these requirements.
TENJOULAND is dedicated to provide the prompt raw material information and thorough service for the domestic factory, assists you to develop the international market.