EXPORT PRODUCTS
TIMBER
Timber is structural softwood lumber. It describes solid lumber which is 5.5Ħħ or more in its smallest dimension. Timbers are used as beams and stringers (where the width is more than 2Ħħ greater than the thickness) and as posts and timbers (where the width is less than 2Ħħ greater than the thickness). Because of the tree size necessary to produce lumber of this size larger timbers are usually produced from west coast species groups such as Douglas-fir-Larch and Hem-Fir.
Timbers are available in thickness from 6Ħħ to 12Ħħ and in widths from 6Ħħ to 20Ħħ. Lengths are commonly 16 to 30 feet or longer, with a premium for the longer lengths. Timbers are always surfaced and sold in the green condition since their large size makes kiln drying impractical.
Timbers are used predominantly as large, visible structural supports in post and beam construction. They are also used as exposed members for beams and support columns. They are specified in architecturally designed buildings and are designed for strength by structural engineers.
Log sawing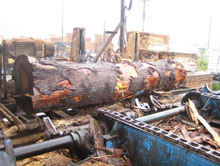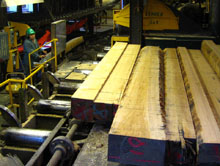 Spruce Flitch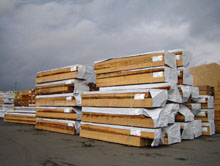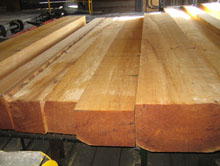 Flitch Delivery